Math - You get what it weighs (1959)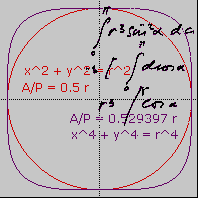 At age sixteen, math lessons at school were boring me to no end. While my classmates were biting the tip of their pencils, trying to solve trigonometric problems, I had already rifled through higher math college books, fascinated by calculus, infinite series and extra dimensions. One day it so happened that "Bulley" (our dorm master, Dr Lang, so named for his loud commands) was temporarily replaced by professor Almer, our math teacher, whose nickname was "Cheese". Cheese because "Alma" is a famous brand of triangular processed "cheeselets" (still available today) which came wrapped in alufoil and in a never ending variety of added spices and flavours. When a pupil complained, Cheese's usual quote when handing out a bad mark for his famously difficult exams, was: "Was wiegt's, des hat's", weighing with his right hand the pupil's papers containing the miserable evidence of mathematical failure. You get what it weighs. The afternoon when Cheese was standing in for Bulley to supervise our homework, he glanced over my shoulder. I was all done but for Latin which I usually postponed until the next morning, and was working on my neatly hand-written "higher" math notes. The books on my desk from the university library turned out to be the ones that Cheese himself had been put on a waiting list for. Here I was - rascal! - using "his" books which he needed badly for his university teaching classes.



Hence he appropriated the books and assigned me to teach "his" math lessons to the big guys from graduating class, two years older than me. They didn't like it one bit when I took one of their failed papers and announced solemnly: Was wiegt's, des hat's!

Jazz band (1960)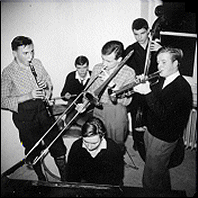 Musically, many of us were shaped by The Voice of America's History Of Jazz series delivered nightly under our pillows by a single army surplus earphone fed miraculously by a crystal receiver. The trumpet of King Oliver did not need amplification; the humid foggy air above the Mississippi River had the same effect. Django Reinhardt, Benny Goodman, Lionel Hampton, Gene Krupa, Teddy Wilson, and finally Dave Brubeck and Paul Desmond were indelible stations along the way of our jazz education. It was quite unusual for a class of only thirty pupils to bring forth all six musicians traditionally required by a Dixieland band. Hitherto such bands would have taken their resources from several grades in school. Being all six in the same class, benefited us greatly with regards to practice sessions. Near the end of the school year, during a six-week student exchange program arranged with the Lycée Saint Louis de Gonzague on Rue Franklin in Paris XVIe, we got our long-robed French Jesuit teachers tapping their feet to our beat. It was an uneven exchange. While our French counterparts stationed in Austria at our boarding school complained about the lousy kitchen, we were literally dined and wined in the posh homes of their invariably wealthy parents. We played at and jammed with Maxim Saury at the Caveau de la Huchette (which is still hopping today, sixty years later). In Vienna, we participated at jazz festivals and at the carnival. The sad part was our need to make concessions when playing for money. Conventional, often schmaltzy dance music was required at firemen's balls, in country taverns and at the Conservative Party student clubs.



Sail Along Silv'ry Moon!