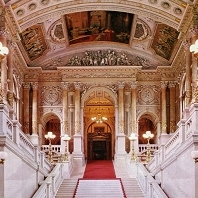 One of two identical staircases of the Imperial Theater (Burgtheater), designed by Gottfried Semper and Carl Freiherr von Hasenauer, 1874-88.
Photo by Johanna Fiegl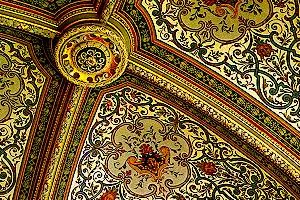 Ringstraße Palais Rathausplatz 4, designed by Franz von Neumann, 1880, detail of exterior Arcades (ceiling)
Photo by Johanna Fiegl


In 1965, as a budding 22-year old student of architecture in Vienna, I was asked by my professor in Denkmalpflege (Preservation of Monuments), Dr Walter Frodl, to prepare a study about a 19th century architect, Anton Baumgartner. The reason for requesting research about this specific architect, was a matter "of life and death" for an important Ringstrasse palais on Kärntnerring whose owner, Anglo-Elementar Insurance, wanted to raze it to the ground and replace it with a modern office building. Frodl was also president of the Office for the Preservation of Monuments (Bundesdenkmalamt), and therefore at the helm of the government organisation that could veto such new construction by listing the building as a "historic monument".

His main reasoning for doing so was the nascent recognition that all the buildings along the Ring were worthy of preservation in toto as an "urban monument". Hitherto, the criteria for rulings of Frodl's (and his predecessors') office, such as the ones regarding the numerous baroque palaces in Vienna, had always relied on the merit of the individual building and its architect, rather than on urban design considerations. This bureaucratic pattern could not easily overturned and as nobody knew much about the architect Baumgartner, I was given this unusual task.

The task was unusual because Baumgartner was by no means an important architect, but nevertheless an early, and therefore pioneering figure within the life of the Ringstrasse period. Besides exploring his life and work, I felt compelled to first understand the motivations of this new architectural movement, which even as late as in the 1960's was considered just a weak and unoriginal copycat compendium of historical styles.

Even during my university years therefore, the second half of the 19th century was still "terra incognita", something begging to be explored, explained and justified. Hence I preceded my monograph on Baumgartner with a cocktail of five small essays (two of which are included in this website) dealing with this maligned architectural period. Its name, "historicism" (or "historism") had been created with the same initial contempt as labels of previous styles. Renaissance artists created the expression "Gothic" referring to the "barbaric" art of the Goths. "Barocco" was considered a debased application of Renaissance features to architecture, and initially denoted a bad taste in design and ornament generally. "Art Nouveau" and "Modern Architecture" experienced similar unfavourable and derisory labeling. On the other hand, all of these labels have undergone a transformation to positive and meritorious judgments by subsequent generations.